Digital orthotics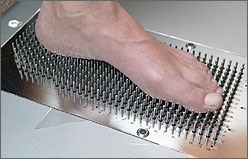 1. Scanning


A digitiser with 576 feeler pins takes a digital image of the foot profile both when under pressure as well as in a state of pressure relief.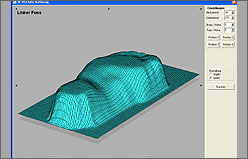 2. Analysis


After the foot is scanned via sensors our computer analyses the acquired data. By means of the image displayed it is now possible to provide for correction and/or optimisation.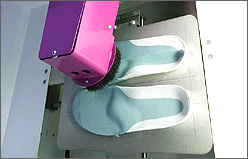 3. CNC-milling machine


The corrected and/or optimised foot profile is now precisely milled out via a computer-controlled milling cutter.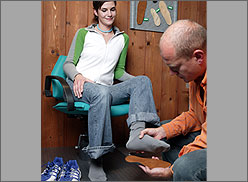 4. Check & test


Finally, the shape and fit of the orthotics are checked and tested by our clients.
Orthotics are functional orthoses which provide for the correction, support and cushioning of mal-positioned or overexerted feet.
To guarantee for a 100% individual and precise fit your foot profile is digitalised and adjusted accordingly by the computer.
On the basis of the acquired data your orthotics are manufactured via a CNC milling cutter and then customised to fit in your shoes (see pfeilOrthotic technology).

Orthotic Manual (german Version) (PDF-Download 232 KB)